Curried Lentils with Spinach
Note: Eating a half cup of these legumes gives you 8 grams of protein. The herbs used in the recipe are known for their anti-inflammatory & antioxidant properties.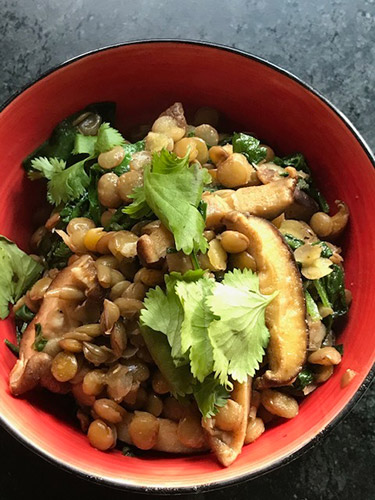 Ingredients:
2 cups of Green Lentils
6 cups of water
1 lb. of Shitake Mushroom Caps, sliced
Salt, 1 tsp
Bring Lentils to a boil with water & salt. Cover and cook for 30 minutes or until tender.
While Lentils are cooking....In a skillet with 2 TBSP. of oilive oil, add: Shitake Mushrooms, 1/2 tsp. cumin, 1/2 tsp ground corriander, pinch of cayenne, 1/2 tsp ground curry, 2 cloves minced garlic, 1/2 tsp grated ginger, saute for 5 minutes. Add 2 cups of baby spinach, add 1/4 cup chopped parsley. Add cooked lentils with 1/2 cup of lentil water. Stir, top with Cilantro.