Appalachian Botanical Products for Sale in Canonsburg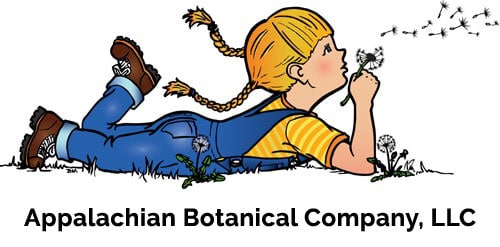 Appalachian Botanical Company, LLC is a Women Owned Small Business located in Canonsburg, Pennsylvania. The company sells medical supplies, Homeopathic, non-narcotic topical and sublingual remedies. Appalachian Botanical Company formulates and develops unique herbal and homeopathic formulas. Heidi Weinhold ND serves as the managing partner and received her Doctorate in Naturopathic Medicine from Southwest College of Naturopathic Medicine in Tempe, Arizona. In 2017, she received an Honorary Doctorate of Humane Letters from her Alma Mater. Dr. Weinhold has a private practice in Canonsburg is an expert in targeting natural remedies to manage pain and help relieve anxiety.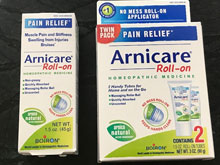 Arnicare Roll On Muscle Pain & Stiffness
Temporarily relieves muscle pain and stiffness due to minor injuries, overexertion, and falls.
Reduces pain, swelling, and discoloration from bruises.
Directions:
Apply a thin layer of Arnicare Roll-on to affected area and massage gently 3 times a day or as needed.
If heat or ice is applied, wait five minutes before applying Arnicare Roll-on.
Do not apply Arnica over an open incision or wound
Available in Single Roll On and Twin Pack
Cost Single Tube: $10.00
Cost Twin Pack: $16.00
For Medical Professionals: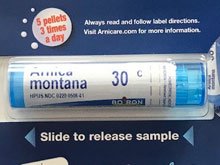 Arnica 30c Sublingual Homeopathic Pellets
Aches and Pains
Sore Muscles
Bruises
Helps speed Post-Operative Recovery
For Healthcare Professionals: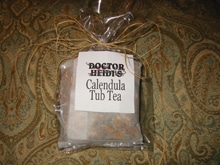 Calendula Tub Teas
Directions: 1 Tea bag to a warm bath, soak and relax. Calendula is excellent for the skin and soothes itchiness, soreness, rashes, acne, vaginitis, and eczema.  Nursing mothers will find the bath a soothing and safe way to relieve nipple pain. Ingredients: Calendula and Sage
Cost: $10.00  includes 5 Tub Tea Bags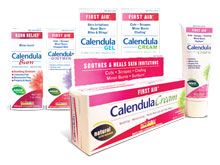 Calendula Cream
The flowers of the Calendula officinalis plant, also known as Garden marigold, have been used topically for generations to naturally heal skin irritations. As the active ingredient in Boiron Calendula topicals, the Calendula officinalis tincture helps promote the healing of minor burns, scrapes, and skin irritations and relieves sunburn and minor cuts. Available in four formulas - cream, gel, burn and ointment.
Soothes skin irritations
Helps promote healing of minor burns, scrapes, and skin irritations
Relieves sunburn and minor cuts
No artificial colors or perfumes; paraben-free
Cost: 2.5 ounce of Calendula Cream $15.74
For Health Care Professionals: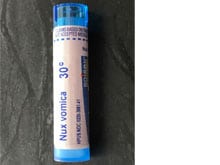 Homeopathic Nux Vomica
NuxVomica 30c: this homeopathic remedy is helpful for the Type A personality, who can't sleep after 3 am, gets irritable, and craves stimulants like caffeine. NuxVomica is commonly known as the homeopathic 'hangover remedy' and helps to relieve bloating, headaches, nausea, indigestion, and sluggish feeling after an evening of overindulging with food or alcohol. Taking this remedy helps to break addictions and self medicating behaviors.
Directions: Dissolve 3 pellets under the tongue to help relieve symptoms of nausea, bloating, and headache due to the overindulgence in food or wine. Repeat 3 pellets of the remedy every half hour-hour until symptoms resolve. Do not exceed 5 doses of Nux Vomica in a single day.
Cost: $10.00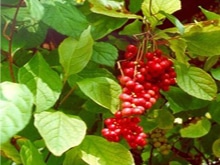 Schisandra Berries
Ancient Chinese Yin Tonic!
Chinese royalty and Daoist masters believed that Schizandra possessed the "three treasures of youth, sex, and beauty."  Schizandra Berries are a Natural liver tonic, skin softener, and libido booster for both men and women.
Schizandra softens the skin and aids in the production of sexual fluids.  It rejuvenates the memory, increases sexual stamina, and mental clarity. Chinese use Schizandra to treat mental illness, increase circulation of blood in sexual organs in men and women.  The berries also alleviate some of the symptoms of menopause including vaginal dryness, hot flashes and forgetfulness.  It "quiets the spirit and calms the heart." 
Directions:  Take 1 series by chewing 1 Berry for 100 days and stopping. I recommend 1 series per year for health & beauty. 
Packaging Description:  Your 100 day supply of Schizandra Berries will arrive in a beautiful Chinese drawstring bag.
Warning: Do not use if you are Pregnant.
Cost: $10 per bag.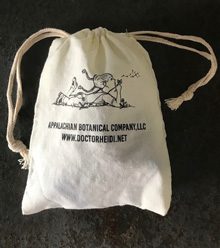 Homeopathic Stress Kit
The stress kit contains one tube of Homeopathic Gelsemium 30c, Nux Vomica 30c, Staphysagria 30, and Ignatia 30c. Directions are included.
Cost: $39.95 + $5.00 shipping & handling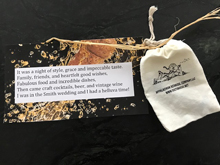 After the Party Kit
It was a night of style, grace, and impeccable taste.
Family, friends, and heartfelt good wishes,
Fabulous Food and incredible dishes,
Then came craft cocktails, beer, and vintage wine.
I was in the Smith wedding and I had a helluva time!
A unique and relevant gift for the entire wedding party
Nux vomica is known as the homeopathic "hangover remedy" and helps to relieve symptoms of headache, nausea, bloating, and sluggishness associated with overindulgence. It's not uncommon for people to overindulge in both food and alcohol during the celebration. Dr. Heidi Weinhold suggests taking homeopathic Nux vomica 30c, 4 pellets under the tongue, at the onset of symptoms. Wait 30-60 minutes. Repeat only if necessary, until symptoms subside. Do not exceed 5 doses of the remedy in a single day. Each kit includes a cotton drawstring bag, one tube of homeopathic Nux Vomica 30c, and the attached poem will be personalized for the bride and groom. They make cute, inexpensive gifts for the entire wedding party.
Cost: $15.00 + $5.00 shipping & handling