Available For Speaking Engagements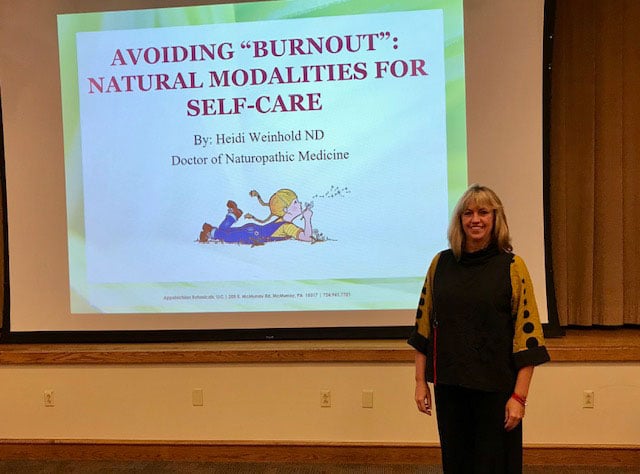 Dr. Heidi Weinhold is available for Speaking Engagements
In addition to seeing patients daily, Dr. Heidi also enjoys conducting thought-provoking lectures and interviews on health-related issues. She is a much -sought after speaker. The rapport she establishes with her audience is natural and virtually instantaneous. Dr. Weinhold is available for both in person as well as virtual events.
Topics:
"Staying Resilient: Natural Strategies to Manage Stress & Anxiety."
"Integrating Homeopathy into Breast Cancer Treatment Plans".
"Avoiding 'Burnout': Natural Modalities for Self-Care"
"Natural Support for Cognitive Impairment Following a TBI."
"Incorporating Homeopathic Remedies into Nursing".
"Homeopathic Pearls for Sports Injuries"
"A Naturopathic Approach to Pain Management"
"Homeopathic Remedies to Incorporate in a Gerontologic Practice."
"Integrative Treatment Options for Prostate Cancer and Natural Support for Men's Sexual Health."
"Integrative Approach to Inflammatory Bowel Disease."
Endorsements:
---
About The Speaker, Dr. Heidi Weinhold

Dr. Heidi Weinhold received her Bachelor's Degree in Biology from Washington & Jefferson College.  Dr. Weinhold completed a four-year doctoral program in Naturopathic Medicine from Southwest College of Naturopathic Medicine in Tempe, Arizona. Her studies included drug-herb interactions, homeopathic intakes, dialoguing with physicians, and natural modalities.  Dr. Weinhold offers Naturopathic support to individuals undergoing conventional cancer treatment as well the caregiver. She is trained in evidence based natural therapies to help improve the effectiveness of and to reduce the side effects of conventional cancer treatment.  In 2013 she received the Alumni Award from Southwest College in recognition of her contribution towards the advancement of Naturopathic Medicine.  In 2017, Southwest College further honored Dr. Weinhold by bestowing upon her an honorary Doctorate of Humane Letters.
From 2008-2016, Dr. Weinhold served as the legislative chair for the Pennsylvania Association of Naturopathic Physicians (PANP), working with legislators to promote legislation to license Naturopathic Doctors in Pennsylvania.  A giant step towards this effort was achieved with the passage of House Bill 516 in 2016.  HB 516 provides title protection and registration for Naturopathic Physicians graduating from accredited Naturopathic Medical Colleges.  She is 1 of 60 Naturopathic Doctors who have the credentials to qualify for registration in the State of Pennsylvania.  Full licensure efforts are currently underway.  Dr. Weinhold received the 2017 Physician of the Year Award from the Pennsylvania Association of Naturopathic Physicians.
Dr. Weinhold has a private practice located in Canonsburg, Pennsylvania and is available for both in person as well as virtual private Naturopathic consultations.  Dr. Weinhold is also available for speaking engagements.  She frequently lectures on a variety of integrative medicine topics including "Incorporating Homeopathic Medicine into Breast Cancer Treatment Plans." For the last three years she has addressed the first-year University of Pittsburgh Medical Students, Duquesne Holistic Nursing Students, the Southwest Pennsylvania Physician Assistant Association and the UPMC Shadyside School of Nursing.
Dr. Weinhold serves as the managing partner for Appalachian Botanical Company LLC, a small women-owned business that focuses on non-narcotic herbal and homeopathic solutions for stress and pain relief.
May 7th - May 9th, 2021
FICS 2021 Global Sports Chiropractic Symposium